What is it that they say, what doesn't kill you makes you poorer? Or is it stronger? In my case, it's more of the first than the latter, but I'll have to admit: retail therapy sure is a whole lot more fun than wallowing in fear and self-doubt. We got to bring my father home from the hospital Monday night, and it will continue to be a whirlwind of follow-up doctor appointments. But the words father and home together are music to all our ears.
Thank you my dear readers for your comments, emails, and well wishes. I absolutely believe in the power of positive energy.
Hopefully when sunnier skies come our way, I'll be able to come back here and share more stories from the road. Writing here has been a surprisingly effective stress outlet for me for the last few years. Sometimes I feel like you're sitting across from me, letting me share/vent/escape. And sometimes I feel like I'm just writing in a vacuum, to no one really, just simply listening to my heart while my head dictates to my fingers at the keyboard. Such is the reward of writing. Thank you for reading me.
Now…what about that reference to retail therapy? When I get a chance I'll upload some pics. All I can say is that I showed up at my parents' house with three pairs of shoes and will be leaving with nine (at last count). Who said stress wasn't good for the economy!
Not too long ago my dad confessed that he'd never changed any of our diapers. Ever. Three daughters, zero diaper changes. He would be the first to tell you that he was never the warm and fuzzy, hands-on father type, but for as long as I can remember, one single look of disapproval from him was enough to stop a temper tantrum (if I could bottle this method of discipline I might get rich). A hint of disappointment would send you packing to three miserable years of law school. But a smile of pride would last this daughter a lifetime and pull you through your most difficult hours.
A week ago we had my father hospitalized for a serious illness. When he gets well, I hope he'll give me permission to write about our experience here, using my diary as a way to hopefully help other families that may be going through the same challenges.
It's been an emotionally and physically brutal week for us here, especially for my mom and me, but once I was able to stop crying and process the shock of it all, I found my way into a secret hiding place, away from all the turmoil, where I could reflect on his quiet, immense strength. Perhaps after 71 years of rising to life's toughest hurdles and overcoming all of them brilliantly, he just needed this time to be taken care of. As we, his nuclear as well as extended family, huddle around him now to cheer him on to his road to recovery, I try to temper the images in my mind of him in the hospital with those of his gentle smile, full of unspoken love for his family. This picture below was taken 3 Junes ago. I wish I could take us back in time and freeze that moment, when he was healthy, forever.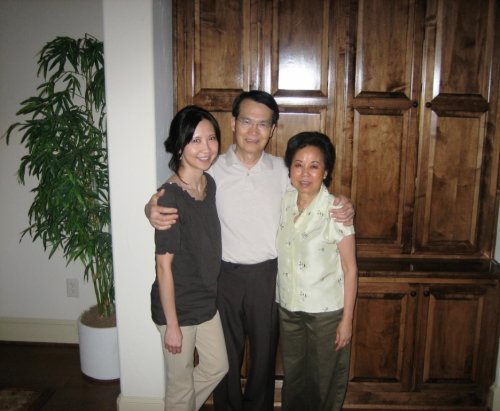 This is a tough Father's Day, but what I've learned in these last ten days is that every day, and every moment, we are family first and everything else second. If you are lucky enough to have family in your life, show them you love them.
Tags: Father's Day
Eat, walk, photograph, drink, repeat. Though not necessarily in that order. But that's basically my routine in Rome. The question, though, is where to eat. There are so many wonderful choices in Rome that sometimes I wish I had an extra stomach to accompany my hungry eyes.


As a long time fan of TripAdvisor, I decided perhaps just once I'd put my fate in its community's collective hands and try out the top ranked restaurant at this website. And on the day I logged on to TripAdvisor, Ristorante Eleonora D'Arborea was numero uno out of some 3900 listed restaurants. I read through the first five pages of reviews and made an online reservation. I knew I should order its celebrated hot/cold appetizer specialty and lobster pasta. I just didn't take any of the comments seriously that it was truly possible to die from gluttony! There were 5 or 6 dishes for that seafood hot/cold appetizer:
So it really is true that too much of good thing can sometimes be…well, too much. And still, I went for the lobster:
Oh, check out this seafood gnocchi also:
So about 2.5 hours into my struggle with finishing the food, they bring out more vino and home-made cookies…
then chocolate souffle:
It's official. I need a stomach staple. Better yet, find me a blindfold as I walk through the streets of Rome…
Where else besides Las Vegas can you find gladiators dressed in full gear in the middle of a crowded center? Well, it would be the Piazza della Rotonda, a square in front of the Pantheon:
And like Vegas, most of Rome is a tourist trap, but it wouldn't be right to come here without touring one of its most famous buildings. A large circular building, the Pantheon is most notably known for having the world's largest unreinforced concrete dome:
Since the 7th century it has been used as a Catholic church (when it's not mobbed by tourists like yours truly):
Speaking of churches, one of my favorite places in Rome is the Chiesa di Sant'Ignazio di Loyola a Campo Marzio (St. Ignatius of Loyola), where you can find the most incredible frescoed ceiling by Andrea Pozzo, a Jesuit brother. The fresco of course alludes to biblical references, but what I love most is its representation of the four continents. You could look at the ceiling forever and still not be able to see everything…
So my neck hurts a little from all that craning at St. Ignatius and the Pantheon. I think it's time to go eat. Let's see what other culinary delights await us in the next entry!
Tags: Andrea Pozzo, Chiesa di Sant'Ignazio di Loyola a Campo Marzio, Panthoon, Piazza della Rotonda, Rome