In today's second part of my visit to Amsterdam we'll tour the city as I saw it through the course of one day, from early morning to evening. Let's start with a hop on the tram…
for a scenic ride to the city center:
I recommend using the central station as a starting point for the day's walk:
From here I lose myself in the crowds, wandering from shopping streets…
to side streets…
to museum square (museumplein)…
During my visit there at Christmas time, near the beloved IAmsterdam outdoors sculpture (right by the above Rijks Museum)
there was an ice skating rink
with wonderful mosaic spheres:
This tribute to Belgian surrealist René Magritte was my favorite:
As the sun began to set, I made my way to the tony Hooftstraat for some retail therapy…
then Indonesian food (rijsttafel) before capping off the night tracking down the various art installments throughout the city for the Amsterdam Light Festival:
Amsterdam is a great host, whether you have a few rushed days or many weeks to visit. It photographs beautifully and entices you to come back. While the first part of that last sentence holds true for many places I've been to, the latter is not always the case. Luckily, the next place I'm taking you wins high marks for both points. See you on another continent!
Tags: Amsterdam, IAmsterdam sculpture, Magritte, Museumplein, Rijks Museum, rijsttafel
By the time you sit down to read this entry, I will be running around somewhere in Southeast Asia. I'd meant to share these photos from my somewhat recent trip to Amsterdam (over the last holiday season) before I left on my trip, but it's been such a hectic couple of weeks that I had no time to come here and de-stress a bit.


Amsterdam is one of those places that you have to see in person. Like Hong Kong, Paris, or Machu Picchu. Tons of images can be found of these places, but some cities need to be walked, smelled, tasted, and devoured by all five of your senses.


These that you see in today's entry are photos I took while walking around Amsterdam:
This was not my first trip to Amsterdam so I got to take the city in stride this time around, without any rush to and from museums and what not. Though I wish I'd remembered to buy a ticket to the Anne Frank museum ahead of time…


The line seemed like a mile long and the chill cut through my jacket, so I opted for some pancakes instead:
You know the weather's got to be bad for me to pass up on a museum. More from the city in the next entry.


We're in the final hours of Jamzilla (the partial closure of the infamous 405 freeway for expansion), a follow-up to the 2012 Carmageddon, and I'm sitting in traffic, wondering why of all days I have to be on the 405 today. But that's the reality of living in LA. For every perfect sunny day in southern Cal we pay its price by sitting under the clear, blue skies in our cars hours at a time to get anywhere. To make the most of a long drive, I plan out the week in my head then tell Siri to jot those thoughts out on my phone. And then I thought about this last look here.
I've been scratching my head about how to close out this series. What concoction could I possibly whip up from my closet to do real justice to the fabulous Hermès croc?
First, I thought, maybe an all-American look with jeans, crisp shirt, and some sneakers to let the bag do all the talking?
Or maybe a more equestrian ensemble as a tribute to this house of sellier?
And then I realized I should just close the series as I opened it, with a Chanel dress that needs very little editing. When simple is done the Chanel way, I don't need to complicate things. Will anyone notice what I'm wearing anyway when they see this bag coming?
Croc K32/Look 6: 10P Chanel dress and black YSL slingbacks.
This dress is from one of my favorite seasons Karl ever created. In hindsight I wish I had bought more from this past season and less from the future ones.
Thanks for indulging my croc K32 obsession with these six looks. But yes, I do know it's an inanimate object, even if she may think otherwise…
Tags: Carmageddon, Chanel, Hermes, Jamzilla, Kelly 32, LA, YSL
For some time now Karl Lagerfeld would design a fantastic Metiers d'Art collection each year. Some of the more memorable seasons included Paris-Londres, Paris-Shanghai, and Paris-Monte Carlo; the most recent one was Paris-Dallas. Aesthetically my favorite is a tie between Paris-Byzance and Paris-Bombay. Completely over the top yet so irresistible. But the one season that stands out prominently in my closet is actually Paris-Moscow, one of my most heavily collected seasons.
If only I'd snagged some tickets to the Olympics games in Sochi, Russia, I'd be all set…
Croc K32/Look 5: 09A Chanel jacket, GAP stretch straight pants, Massimo tank top, Gucci skyscrapers.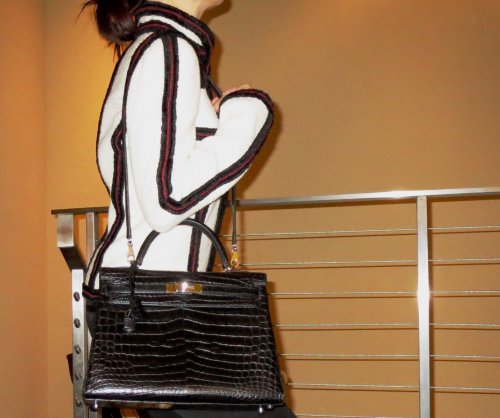 Speaking of the Olympics, I thought I'd do some "gymnastics" of my own, using the 10-seconds-3-shots self-timer on my camera as a way to capture the head-to-toe look:
I keep forgetting I'm not 19 anymore. Kids, don't try that at home. It's bad for your health.
Tags: Chanel, Gap, Gucci, Hermes, Kelly bag, Metiers d'Art, Paris Moscou
In the spirit of great TV show crossovers (remember when the Power Rangers met the Teenage Mutant Ninja Turtles or when CSI: Miami intersected with CSI: New York?) and the much anticipated Batman vs Superman mash-up for 2016 (BTW is it 2016 yet? I really cannot wait for this epic movie to come out, but my bet is on the Dark Knight even if I love all my superheroes equally), I thought I'd do my own series crossover!
While undergoing major work stress last week, I had a delivery of sorts… an adoption of a vintage black box Kelly ("BBK") 28cm from 1973:


That's right, the bag is over 40 years old, but can you see any significant aging against my decades younger croc Kelly?
If only the leather on my face aged that well! The patina is beyond fantastic in person, giving the bag a gloss like no other. I've been told that box (calf) leather used from past eras is better than what's currently being used, and I really can't comment on that as I do not have a 2014 BBK to compare it to, but what I can say is that the construction of the bag is incomparable. Perhaps I got lucky with a bag that was so little used that it still looks/feels pristine after four decades, but I suspect a lot of this has more to do with the superior Hermès workmanship. That's the tangible legacy that we are (unhappily) paying an arm and a leg for.


Anyway, the back story to this K28 is rather straightforward. I've always wanted a BBK with gold hardware because imho it is the classic Kelly. Like some of you, I've always had a picture of Grace Kelly carrying one of these bags on my mood board. But I've seen these box leather bags in person–any scratch will show (though you can smooth it out if it's a superficial one) but the upside is that with age and wear it will develop an even, beautiful patina. The leather is also supposed to outlast at least one apocalypse. It's just the most ladylike bag in the history of handbags. But the twist to this whole scenario in my head is that I wanted to find a BBK in the retourne instead of sellier (more rigid) style. I love how Grace Kelly always looks so formal even when casually dressed, but I know a sellier bag is a bit too formal for me.


So back to the story, the BBk28 popped up from a trusted reseller a few days before my trip back from Europe and I quickly got advice from my tiny circle of trusted confidantes. Some weeks later my bag survived the trip from Switzerland to LA via the snowstorms in NY. I did feel protracted labor pains while waiting for her in the midst of shipping delays from inclement weather, but once she was in my hands… well, you moms know what I'm talking about. Labor pain, schmabor pain, you're already thinking about the next one! Am I right, ladies?!!
Speaking of Grace Kelly, there's another lady I often reference when trying to put a formal look together. I'd go into my closet and wonder out loud… what would Carolina Herrera wear?
Croc K32/Look 4: black Banana Republic silk blouse, Chanel 08A floor length tweed skirt, Hermès black cdc belt, Bandolino silvery gold flat sandals.


Which bag would you use for this look (PS: don't you love pockets on evening wear?)?
This is exactly why it makes sense to have two black Kellys in different sizes with different hardware. That's my story and I'm sticking to it!
Tags: Banana Republic, Carolina Herrera, cdc belt, Chanel, Grace Kelly, Hermes, Kelly retourne, road to adoption, sellier, series crossover