If I had a choice of superhero powers, it wouldn't be the ability to control weather (though that could be a very practical skill set for a road warrior like me) or to heal myself from physical injury or even to have X-ray vision. It would simply be the power to teleport myself, or even better, clone myself so that I could be in multiple places at the same time.
This is the mindset I'm in right now because if there were two of me today, one of them would be in Kuala Lumpur sitting at the Chanel 2014 Cruise show while the other is at work in Belgium. It's a terrible bummer to get an invitation and not be able to attend, but my consolation prize will be waiting for me the next time I'm in KL:
Anyway, I was particularly keen on attending the show to see how they would show these two jackets that I'd tried on in Paris…
It's one thing to see the runway photos from Paris a few weeks ago, but it's another to see how the pieces move on the human form after they've been properly fitted on the models. My own photos from dressing rooms do not do the jackets any justice because I am usually in inappropriate footwear or just too casually dressed. Anyway, no teleporter, no show.
Then I also received this email today:


Dagger to the heart! A public exhibit along with a private show in my own hometown of Dallas, Texas! And finally an opportunity for a chance meeting with Karl Lagerfeld himself (and by chance of course I mean stalking the poor man with my camera). But when Big D welcomes Chanel and KL home–there's a rich, loving history between this city and Chanel–I'll be on Karl's usual continent, hopefully in a city I've not seen before. Just that at this point I don't know exactly where I'll be on December 10th yet. But no doubt I'll be sobbing in my head for all these fashion opportunity costs in exchange for a life on the road. Not that I'm complaining; I wouldn't trade the world…for the world. Just too bad human cloning wasn't available for sale on Cyber Monday!
Tags: Chanel, Dallas, Karl Lagerfeld, Kuala Lumpur
Paris is definitely a dangerous playground for any fashion addict, whether you are that seasoned shopper with a determined gaze straight ahead of you or a newbie meandering around a bit lost with stars in your eyes. At this point in my life, I'm the seasoned shopper still with stars in my eyes each time I find myself in this neighborhood:


It never fails. I could be very resolute in my shopping itinerary, headed for this destination…


but somehow get drawn into another shop because of the tempting display windows…
So instead of looking first and foremost for that elusive Kelly on my wish list, I wander into the Chanel flagship store's extension boutique and find a pair of oxfords that I was not able to find anywhere in the US:
I actually have a hard time debating between the two oxfords seen here below, but the sweet salesperson convinces me that the more classic beige combo is the way to go. Those tall boots also get embedded into my mental notebook; I'll have to make time to find them in my size at some point:
I walk out of the store pretty happy; don't you just love diversions that help check off something on a to-do list? Anyway, I get to Hermes but they are closed for inventory:
I'll stop by the other H boutiques later. For now, since I'm already here and being sucked in by all the holiday decorations…
I try on some RTW to finalize my short list for the upcoming winter sale buys…
But after five or six stores…
I'm starting to feel every cobblestone under my sneakers. But just when the fatigue sets in, I spot these wonderful views outside the bathroom window (!) of a department store–yes, that's the Sacré-Cœur in the distance–
and I feel recharged. What's another ten more stores to go, especially if along the way I can get some literal eye candy like this giant chocolate gorilla at Patrick Roger?
Besides, I can always rest my feet once I'm back on the train…
Paris for play is just as thrilling as Paris for work. See you in the next country.
In my first start-up company, way before we all had the luxury of using the Internet to grow our business from our mobile devices or virtual offices, I used to go see a lot of clients with not much more than an address and map printout in hand. No Google map to eyeball what the building might look like, no LinkedIn to check out that person's background, or much of anything else to prepare you for that first handshake. It didn't matter if it was some hairy drive I had to make myself to tiny locations in New England in inclement weather or crazy-long flights to larger capitals; everything was just done the old-fashioned way, even if we were in the high tech industry. And then Webex and Skype and all those other communication options became acceptable in the work place. Then my work life became interesting. And this is even before social media came along.


These days, technology makes global scaling possible even for small companies like my current one. But the best perk of all is that now my work travels with me and not the other way around. Sure, the downside is that you can become more susceptible to the 24-hour work day; it is too easy to reply to clients in a different time zone when you should be sleeping. But the upside is that I can also efficiently react to client issues in my PJs. Gone are the days of schlepping off to work at the crack of dawn to keep up with East Coast hours from LA. Now I can get a lot of work done and still squeeze in a workout or doctor's appointment, more or less all on my own timetable, without having to set foot inside a "real" office most days.


But going back to my comment about my work traveling with me instead of vice versa… it really begs the question of whether technology makes my life better or worse. Am I even more of a workaholic now because of the 24/7 access to work, or does it loosen the corporate shackles because I can do my work without being chained to a desk, thereby allowing me to multitask into my work day all of the errands that I also need to get done? Technology gives you freedom but it also traps you its web of activity. Lots of activities. Lots of information, lots of stimuli, and still only 24 hours.


I was thinking about all of this on my recent trip to court a client in Paris. During my train ride there from Namur,
I thought about those countless first handshakes that felt like a true first meeting. It was always interesting to sit across from your client for the first time. Sometimes the energy would be kinetic, and sometimes it would be a rocky road until the ice finally broke. Anyway, by the time I was on the sidewalk in Paris, walking toward the client's building,
I felt a slight twinge of anticipation but there was really no mystery left. Google had already briefed me more than I needed to be on the person I was to see. And the building was exactly where my phone app told me it would be, near the Eiffel Tower:
No matter how much I rely on technology to build our business today, there's nothing to replace that first handshake. Or the first direct look into someone's eyes to begin a round of negotiations. The road to business development may have changed a lot since I first got into this sector, but the human interaction in commerce is still the same.


The only difference is that now that there's this tiny gift called wifi, and a multi-tasker like me can really make the most of out a city like Paris. Today's entry may be about Paris for work, but where there's work there's also time for play…
Tags: Eiffel Tower, Paris
Is this what my life has come to?
Have I become so obsessed with the hunt for H that my visits now only revolve around cities, no matter how large or obscure, where there are Hermès boutiques? I sure hope not! I'd prefer to think that my travels happen to cross paths with the random H store every once in a while, and that if the orange universe really wants me to adopt another one, she will show up.
So on another overcast afternoon I find myself in the upscale seaside town of Knokke Het Zoute, Belgium along the North Sea. The seascape is not different from other beaches I've been to in this part of the world…
and the boardwalk is just as overbuilt here as it is in other cities dotted along the coastline;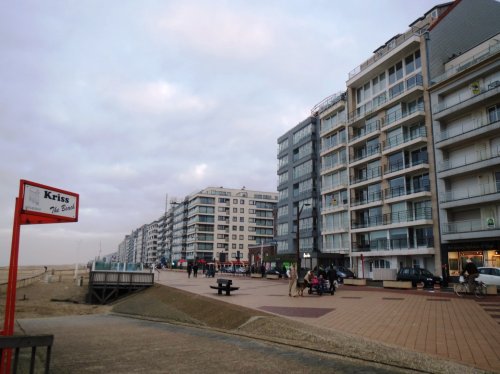 The only exception is a small block of very exclusive stores (I love the architectural style of these shops as much as what's contained inside the stores)…
mixed in with tons of art galleries–this Chinese bronze work entitled Execution of Christ got my attention…


leading me finally to you know where:
This particular H boutique is probably about the same size as the one in Antwerp. But as soon as I walked in, with little to zero hope of spotting a Kelly or Birkin on the shelf, past the front part of the shop, there she stood, a gorgeous togo orange Kelly with gold hardware inside the glass case. Next to the bag was a small "reserved" sign. A very lovely sales associate put on his gloves and offered to show me the bag. I held my breath while he presented it to me, as I would not want another person drooling over or pawing my bag either if that had been mine. We chatted about how lucky his client was to finally have the bag after 1.5 years of waiting. One thing led to another and he asked for my information and wish list–perhaps when his manager goes to Paris for podium orders in January, mine would be in the mix. He then packed up the latest catalog for me and walked me to the door. I thanked him for his time and he encouraged me once more to patiently wait for the email or call from him in due time.
I would have done a cartwheel through the door if I were five years old. So instead I faked the smooth walk down the sidewalk while my heart did the flips inside my chest. I know I shouldn't hold my breath, but maybe, just maybe, this will lead to the next adoption. A girl can dream.
Tags: Belgium, Hermes, Knokke het zoute, North Sea


Antwerp is a port city consisting of a very diverse population of about half a million people. While most people identify Antwerp with diamonds and Rubens or Van Dyck, this quietly vibrant town is also emerging as a fashion capital in its own rights. Olivier Theyskens, Raf Simons, and Veronique Branquinho have each brought the Belgian aesthetics and sensibility to the fashion world at large. And walking around here–just window shopping in Antwerp on a hazy afternoon, visiting both global and local brands–is a fun way to soak up some of this sartorial inspiration.
Of course all of the big names are here,
squeezed in between the smaller names that are equally loved:
That's actually Karl Lagerfeld's latest location, opened just 2 or 3 weeks before I got here. I think he has one of the best logos out there (you know you are a legend when your silhouette is so iconic it can be a logo):
But you know, this part of town is for the well-established. The ones who have paid their dues and/or are backed by conglomerates. Just a bit away is where the fashion start-ups, newbies, and future stars live and breathe. Just walk around and you'll run into ateliers like this one,
with raw, open space adorned with uncut fabrics or newly dyed skins, ready to take shape from a designer's pair of scissors. Look at this next photo carefully… can you see the silhouette of a designer sitting at his sketching table?
I wish that was my studio, with my sketches. My dresses hanging on the rack. If I didn't already have this life, that would be me at that table, on a Saturday afternoon, immersed in my own imagination. Sigh.
Like other towns in the Dutch-speaking part of Belgium, you can't get too far from anywhere before you see some great brick architecture. I can't tell you how many times I've gotten lost just because I had to go down just one more alley or courtyard to see what was behind the gate…
And like with all other towns in Europe, the best window shopping has nothing to do with fashion and everything to do with sweets:


This teeny tiny bakery here, with a less than imposing window display,
still commands a long line of local customers:
It turns out that Goossens makes the best roggeverdommeke (a dark, crispy raisin bread) and boterkoeken (buttery rolls with various fillings), still baked in the old tradition of hand kneading. I'll have to get in line. You know I can't resist any pastry that has the word "miserable" on it
:
Tags: Antwerp, Belgium, boterkoeken, Goossens, Karl Lagerfeld, roggeverdommeke