The problem with brand loyalty, especially when carried to an extreme sartorial experiment by me, is that I miss out on a lot of other cool creations that are happening elsewhere outside of the universe at 31 rue Cambon. Anyway, my friend SL has been telling me about these Mise En Dior tribal earrings for who knows how long now, but it wasn't until not too long ago that I finally saw them for myself at the Dior boutique. And even then I was not 100% convinced. Costume jewelry, I told myself, was just another distraction from my "real" wish list. Keep your eye on the prize, keep those blinders on, blah blah blah.


And then during one free afternoon in Brussels, where I made a quick stop to my old haunt…


to hand over my wish list to a very sweet salesperson, only to be told that the shoes would not be possible to request but that the other items would be forthcoming from Paris in a couple of weeks for me to try on. So off I went to Hermes, with nothing more than a faint hope for a scarf or something. Completely struck out there, and once again I left empty-handed. But wouldn't you know it, Dior happened:
I've finally joined the ranks of all the fashionistas who most likely now find these earrings dated, but heck, better late than never!
After all, I was probably the last person on Earth to discover Zara. Speaking of which, I found these adorable Zara tweed skater shoes on the same afternoon:
I think the tweed matches the colorway of one of my Chanel jackets–I guess I found my way back to the science experiment after all
!
Tags: Brussels, Chanel, Dior, Hermes, Mise En Dior tribal earrings, Zara


One of the more fun ways to immerse myself in French is to watch movies in the original language but with French subtitles. The volume is on low so that my eyes pick up on new vocabulary more than relying on the ears for keeping up with the story line. At some point my brain catches up and it becomes quite entertaining to see how accurate the translations are…at times it is a disaster and other times it is a wonderful experience if you love words and language and the art of context translation as much as I do.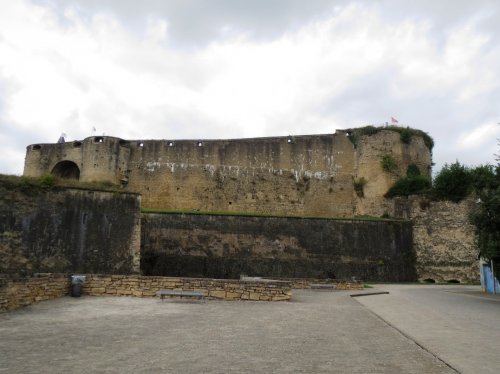 So I thought we were storming a castle today you say to me. We are. I begin today's post with that anecdote because for the last five nights I've been watching a mini-marathon of the Lord of the Rings trilogy before going to bed (the final hour of the third movie is tonight and my fingers are crossed that the hot but reluctant King ends up with the impossibly gorgeous elf princess!). I know in the last post I said I pick up random vocabulary from perusing the Hermès color charts, but where else can I pick up words like éclaireur and maudit but in these fantasy movies?
Anyway, there are a lot of castles depicted in the movies–incredible CGI, I might add–so I've had castles on the brain before I reach the Château Fort de Sedan. Now I knew beforehand that this place was more of a fortress than a fairy tale castle, but when it first comes into view, I am still surprised that it looks more like a huge bunker. Emphasis on HUGE.
Shall we go inside?
So this is what seven stories on 35,000 square meters look like…
It's about 8.5euros for an admission ticket, and you are free to wander around the exhibited space on your own…


The castle is now both a living museum and a 3-star hotel. The museum is not as well curated as I'd hoped, given its long history, but still a good learning experience: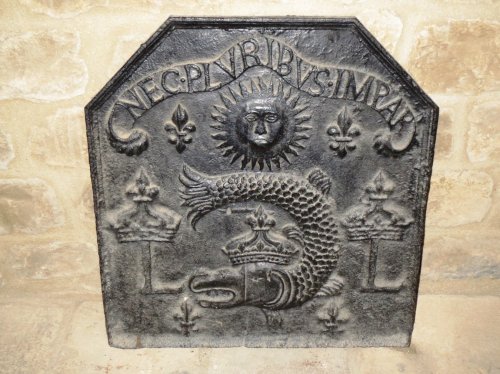 There's an incredible model of the castle and town around it:


So from this visit I learn that there are lots of creative ways to hurt or trap your enemies if you build the fort correctly, from the way you narrow the stairs or turn them counterclockwise to confuse the invaders…
to the way you incorporate drop holes to stun the enemy below (picked up the term l'assommoir and the origin behind the idiom passer l'arme a gauche on this visit, which was well worth the admission fee alone
):
But I think the best part of the visit for me is taking advantage of the height of the structure to gaze into the city beyond…
When you go outside to visit the ramparts,


can't just organically happen without this:


I think it would be quite fun to spend a day or two on the grounds and feel thankful that we no longer live in medieval times (imagine life without the Internet, gasp!):
As I leave, I spot a wedding party arriving for the festivities:
I can only imagine how much fun it must be to have such a great backdrop for their wedding photos.
Tags: castle, Chateau Fort de Sedan, context translation, fortress, France, l'assemmoir, passer l'arme a gauche, Sedan
Today marks my third week in Europe and a couple of weeks of hiatus from blogging since NYC. So far working from the road has been hectic, to say the least, so when I finally catch a break to join a day trip to the northern tip of France, I say oui to Sedan, France.


The commune of Sedan, bordered by the Meuse River which separates it from the neighboring country of Belgium, first emerged in the 1400s. Sedan has long been both a political/religious refuge and occupation between warring factions, from the War of Religions to the Franco-Prussian War to the two World Wars.


These days, Sedan is mostly known for being home to the Château de Sedan, the largest medieval castle in Europe. We shall tour this huge fortress–covering an area of 35,000 square meters on seven floors–in the next entry.


Today I'm just going to take you around the historic city center to a French restaurant recommended by TripAdvisor and kick about a bit before we actually tour the castle. Just how cute is that parking lot in the photo above?


I know today's entry has nothing to do with fashion, but wouldn't you know it, this was on the table:


And then it was used as a serving tray for my dessert:
And by it I mean ardoise, or slate. Ardoise happens to be an Hermès color. Hey, we build on our French vocabulary from whatever source we can find, non? But I digress…
It's always been a voluntary decision for me to not eat meat (more specifically, anything that used to make a noise) and after some 20+ years, I've never fallen off the wagon. Just never missed it. But on this day, I really wish my dining choices were not so limited. We got here later than expected, around 1:30pm, and the trout was no longer on the menu. So while everyone around me got to enjoy the local fares of foie gras, lapin, or this very popular cassoulet…
I had to make do with the only two appetizers that had no meat:
Ok, so that second dish is escargots drowning in champagne butter. (Snails never made a noise, right?) Like I said, for the first time in a long time I wished I were a carnivore. But the moment quickly passed once the owner brought some great baguettes to the table
.
Not too much to see around here, but beyond this bend…
Tags: ardoise, cassoulet, Chateau de Sedan, escargots, France, Sedan, slate


By far NYC has to be one of the best walking cities in the world, especially for photographers. Whether you're a seasoned pro or an amateur like me, every block is its own postcard in the making. Just point and shoot and the picture tells its own story:


From cityscape to waterfront, the city is every camera's dream:


But hands down, my favorite photo opp on this trip was this giant topiary (for lack of a better description), Split-Rocker, by Jeff Koons:


It's half toy-pony, half toy-dinosaur. Wonderful interview with the artist at this link. Too bad I did not have enough time to squeeze in a visit at the Whitney's Jeff Koons retrospective. Here's the shot from across Rockefeller Plaza:
Split-Rocker will be on display through September 12, 2014. I wish I could be here again in a few weeks to see how much it has grown (the flowers will probably be even more in bloom than they already are in my first pic). Go see it and feed your inner whimsy!
Tags: Jeff Koons, NYC, Rockefeller Plaza, Split-Rocker
Almost exactly one week before September 11, 2001, I walked across the grounds of the World Trade Twin Towers after visiting an art gallery. On that fateful Tuesday morning, back in LA, as reality set in after fielding a few calls from my East Coast clients in the money management industry (I cannot tell you how unsettling it is to hear the quivering voices of Alpha males on the other end of phone), I sat alone in my office and thought there was no truer saying than there but for the grace of God go I… Life and death are in everyone's cards. We just don't know when or how they get played out.
A year later, I walked around the fenced-in hole that was now Ground Zero. The wound was still so raw, the enormity of it all looming over everyone's face, heart, and spirit. As a child of war myself, for me the greatest fear was that my family and I would have to live through yet another deadly fight for freedom. How many wars can one lifetime sustain and still not lose hope?
So it was with great anticipation that I visited the 9/11 Memorial Museum a few days ago. It's been almost 13 years and the city has indeed survived. The Memorial's reflecting pools and waterfalls are a great reminder of the endless tears shed over these now hallowed grounds, as well as a symbol of continuity. Where ashes fall life begins anew…
Much of the museum's exhibition space is naturally below ground. The embattled enormous slurry wall and box columns bear witness to how much destruction took place here:
Seeing the Vessey Street stair remnant (aka the Survivors' Stairs)…
and the Last Column…
made me very emotional. But even after seeing so many artifacts of hate, pain, and most of all, courage, from the twisted metals…
to the humongous quilt handmade out of love,
nothing shook me more than this immense wall:
Is this now our own Wailing Wall?
By the Slurry wall, you can write your tribute here
then run over to find your message appear for a second or two:
I was deep in thought before I left my brief message when the docent hurried me over to get a photo of my message before it evaporated. I was a bit flustered when he did that because I was still teary-eyed over some of the other visitors' messages.
If you have the opportunity to visit the 9/11 Memorial Museum, give yourself at least two hours to take it all in. It's a heavy experience loaded with a gamut of emotions. Makes you angry, sad, incredulous, pained. My head struggles to find forgiveness. My heart certainly cannot.
But as I walk away from the museum, I come across this patinated bronze Trinity Root in the courtyard of the historic St. Paul's Chapel at Broadway and Fulton Street. The sculpture was inspired by a large Sycamore tree that was uprooted by the explosion. The tree had fallen in such a way that it actually shielded the tombstones in the church's cemetery as well as blocked any damage to the chapel. Steve Tobin heard about the story of this Sycamore and in September 2005 had this sculpture installed here as "a metaphor for connectedness and strength."


So while forgiveness may never arrive, I can at least answer the question I posed earlier. A lifetime can sustain many wars and tremendous loss, only because hope is as certain as the next sunrise.
Tags: 9/11 memorial museum, Freedom Tower, New York City, September 11, Steve Tobin, Trinity Root, World Trade Twin Towers