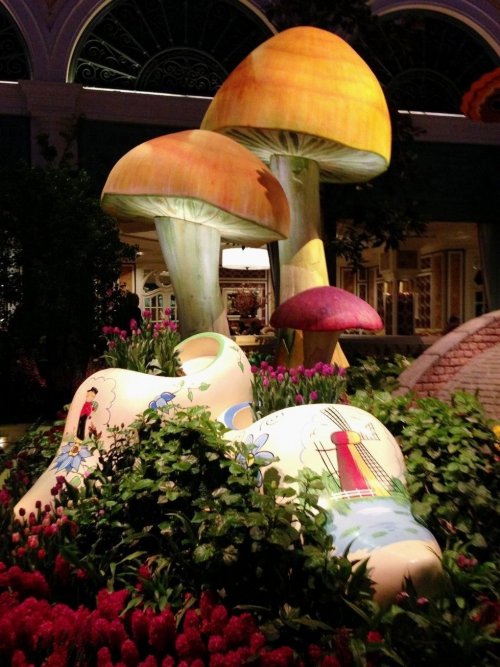 By the time I post this entry I will have already crossed the Atlantic for another one of my European trips. It'll take me a few days to resurface here after that flight, mainly due to the insufferable insomnia that I know awaits me there. In a span of a few weeks I've packed, unpacked, and repeated so many times I don't know if I'm coming or going. My furkids have also taken turns sleeping on top of my carry on case as a non-verbal protest to my impending absence. But even they have learned to adapt to living with a nomad, and it makes our reunions that much sweeter. All I can say is I'm really glad I adopted cats instead of dogs; they are much more independent in spirit and are probably more in tune with my lifestyle.
So what exactly did I do with 36 hours in Vegas on one of my recent trips? The first thing was checking out a hotel I've never stayed at before (one of the joys of reaching destination!)–and this time it's the Vdara Hotel & Spa. Here are night and day shots of views from the 40th floor:
It's modern, new, glassy (and glossy) without any trace of cigarette smoke. I'd stay here again.
The second thing was hitting the Premium Outlet mall just up the freeway from the strip. It's always hit and miss at these outlets but I scored two pairs (bogo no less!) of Stella McCartney for Adidas trainers for $59 after tax. Can you beat that?! That's better than winning a few measly bucks at a slot machine.
Third thing was checking in at work to make sure no unexpected fires have turned up. Then off I went to one of my favorite strolls at the Bellagio. I'm always excited to see what magic they've set up in their grand foyer. This time it's a tribute to spring and Holland:
I'm not planning on visiting the Netherlands this tour of Europe, but this glimpse from Vegas is already quite fun.
So while everyone else in Vegas seems to be scuttling off to gamble (or ?), I'm as usual chasing after my stomach. This time one dish that stood out in particular was a Thai soft shell crab salad:
Not all Thai restaurants are created equal, and my favorite way to judge their authenticity is how well they make and deliver the sticky rice:
Outside of Thailand I've never had better sticky rice than at Ngam in NYC's East Village.
As usual, I've saved my favorite thing to do in Vegas for last. You know summer sales are around the corner; what better way to do a recon for my final buy list than to pop into these lovely boutiques for inspiration…
See you over there.
Tags: Bellagio, Ngam, sticky rice, Vdara, Vegas
It's Cinco de Mayo today so the three of us went to get Cambodian food this morning. I know, that sentence did not make any sense (especially since Mexican food is on my top 5 list) but that's how it is when you live in LA, home to Little Tokyo, K-Town, Thai Town, Chinatown(s) and Cambodia Town. We are a United Nations in one sprawling county. And anyway, just a few doors down from this house cum Cambodian restaurant a guy was barbecuing meat in front of his Mexican restaurant for the occasion.
This Phnom Penh Noodle restaurant first caught our attention from the line of people outside its doors. We had to take a few double takes since it looked like someone's house, and we weren't quite sure if it was really a restaurant or just somebody having a big party!
As it turned out, it was a little of both. It was definitely a house converted (and I hope permitted for) into a resto. But it was so full of people loudly and excitedly waiting for their food that it felt like a party, even at 11 in the morning.
I've never had Cambodian food before, but from what I saw on other people's tables, the noodle dishes looked fairly similar to Vietnamese/Chinese food. The woman at a table next to us said it was also her first time there but she was referred by a friend who supposedly ate there every day. As in yesterday, today, and tomorrow. The hope odometer shot up in my head. I'm pretty adventurous about most things–well, everything. Just not food.
But how can you really go wrong with seafood noodle soup, right?
It came with broth on the side (you can order it with the soup in the bowl or on the side, as we also do in VN cooking):
So the next time you are in the mood for an escape from Chinese, Japanese or Vietnamese soup, go to Long Beach for the Cambodian version. It's worth its Yelp ratings, and its Facebook page has more likes than my own FB page for my blog. Maybe I should offer real food with every blog entry instead of just eye candy!
Tags: Cambodia Town, Cinco de Mayo, Long Beach, Los Angeles, phnom penh noodle


Hello, NYC! It's always a lot of fun to see this town when spring is starting to blossom,


and the weather is just at the right temperature to wear all my knit sweaters and tweed jackets, minus the rain and snow that would not mix well with Chanel RTW! So in today's entry, let's enjoy the city for all its colors and for being such a great backdrop for some fashion shots:


As you may remember, that's the 12A dream jacket I recently swooned over.
I love the flap bag that you see in these photos, but after a few days of running around the city, I now realize that if I ever become a NY girl, I would have to rely on a much bigger bag for daily use. Without a car, New Yorkers do have to schlep everything in their bags… especially because you never know when you might be in the mood to pick up a pizza for an impromptu picnic in the park
:
Is it really mid-April already? As you can tell from my recent silence on this blog, I am still in serious need of 48-hour days. Does anyone know where I can order one of those online?
Anyway, the 4/18 Club 2013 meeting took place again this year in NYC. The third member of our club (my cousin S) was not in town so we got Lil A's brother, Mr. T, to stand in. He is, after all, 15 months now and can hold his own in our rowdy club!
This year we did not have a rigid agenda like last year. Instead we had an open table discussion about fashion…
including a few outfit changes until Madame President threw up her hands and said "no más:"
So we turned to the topic of abstract art…
and really weird art. Yes, that's our series of 10 Play Doh Doras. I'd pump them out and Lil A would be in charge of quality control; she'd examine each Dora and tell me if it was good enough to make the cut or not!
Then we had some excellent Dosas from a South Indian restaurant during our meeting break. For some reason I ended up giving Madame President a piggyback ride all the way back to her place after lunch. Yes, while wearing my Chanel coat and bag. That's just how Lil A rolls. Even her carry people have to look sharp while serving her.
But at least I was amply rewarded with snuggles from this little guy:
So anyway, I'll take these squeezes over the 48-hour days as a birthday present any time!
More pictures from the City in the next entry
The first three months of 2013 have turned out to be quite a grizzly bear at work, which is both a blessing and a curse. Good for business and bad for stress. To de-stress, I stick to my one hour of workout each day. Recently I've moved from dance-related routines back to more physical drills that involve punching and kicking. Unfortunately I think I went too far last weekend and aggravated a muscle strain. So today looking not so fashionable in my foam cervical collar I'm trying to cheer myself up with a sartorial entry. I digress, but I have to say I feel quite Elizabethan in that collar…how the heck did women get anything done back in those days while wearing such an insufferable collar?
Anyway, I should preface today's post with an admission that I've been trying very hard to not wander into boutiques as a way to unwind from a protracted negotiation round. Or browse (and by browsing I mean clicking on "buy") online when trying to stay awake during long, boring conference calls at ungodly hours. Wait, did I just say that out loud?
But sometimes, something comes along that's so outside of your comfort zone yet resonates with you in an almost animalistic way, you just have to give in. Case in point, an early bday pressie from moi to myself:
It's the bright pink sueded caviar mini flap. I know, do I look like Barbie to you? If you know me, you would shout no. Heck, no. I'm way on the other spectrum of Barbie. Anti-Barbie even. But what can I say, sometimes the purse gods do things just to laugh at me.
BTW, just to show that everything really is relative, here's a pic of the shocking pink bag next to something that makes it look so much more subdued–it is paired with a magenta chiffon Marchesa dress that I got for Lil A for our next April 18 Club meeting:
Hmmm, no, it's still a pretty bright pink bag
.
So next time you see me, I'll be toting this little number, completely out of my comfort zone but sporting a grin. Sometimes you do just have to laugh at fashion and live a little.
Last shot? This is the most clever I've seen Chanel in cutting holes in the protective felt pieces:
Tags: Birkin, Chanel, JCrew, Marchesa, mini flap, sueded caviar, YSL tribtoo