Belgium is full of enchanted forests. On this particular day we are driving through one in order to reach the Benedictine abbey at Maredsous. Century old trees and dewy sapplings alike hug the narrow roads, their branches swaying back and forth as if to welcome us into the pages of a fairy tale. It does feel like a fairy tale because from behind the trees you can sometimes see old stone estates resembling castles…

I half expect to see Prince Charming riding across the field on his white horse. Instead, I see white cows sunning:

My friend and I drive in silence, with the windows down, enjoying the fantastic shades of green all around us. It's easy to get lost in our own thoughts when nature overwhelms us with its beauty. I ask him to stop the car at a bend in the road so I could walk, if only for a few yards, in all this splendor. Birds call to each other from tree tops. Water trickles over stones and pebbles down the creek. A dragonfly flutters over my friend's shoulder and then disappears. I am lost in my own fairy tale.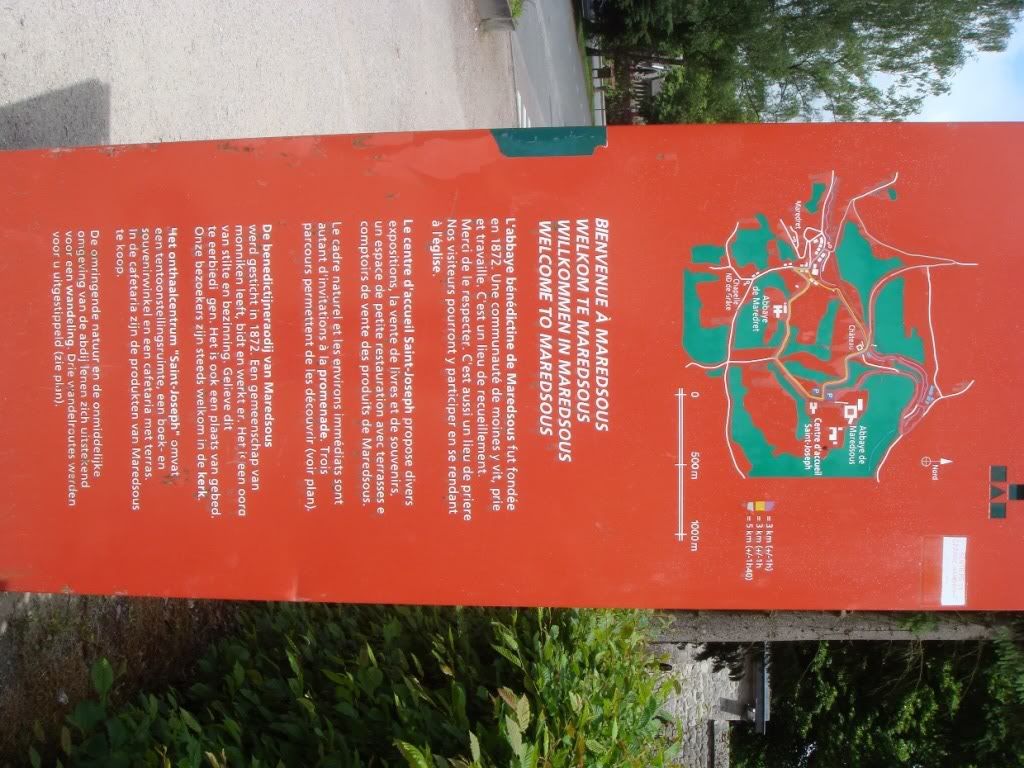 We arrive at the abbey just as the bells begin to toll (press button to play the video):
This abbey still operates as a monastery today, also continuing in their business of producing cheese and licensing their name to a beer producer. Maredsous 8 Bruin is quite tasty, even to a non-drinker like me.
When you enter the main building pictured above, there is an information center to the right and a gift shop next to it. But we head straight for the food shop; enchantment makes you hungry. Here you can select your choice of bread, cheese, deli meat, and beverage. Then you slice your own bread,
grab a table outside, and enjoy your lunch (the cheese is quite rich in flavor and very fragrant):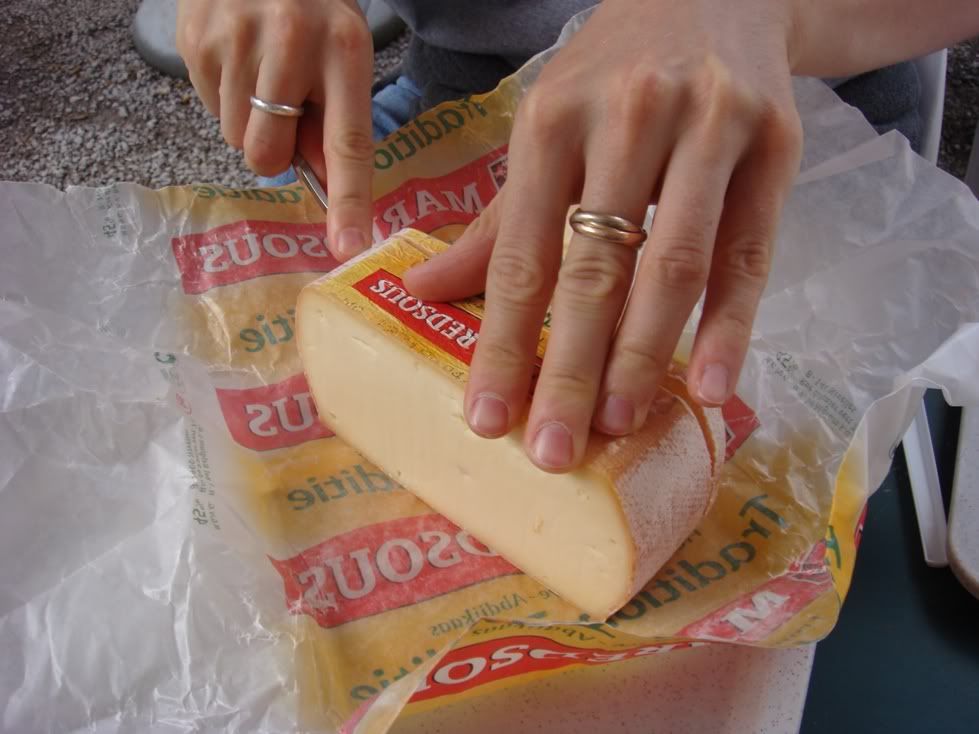 After this simple yet filling lunch I set off to visit the fromagerie as advertised in the sign. I'm giddy, thinking I will get to see how cheese is made and packaged:

But after walking all around the grounds a good 20 minutes I realize that only the front part of the abbey is actually open to the public. Luckily no one flogs me for trespassing. Here are some views of the abbey: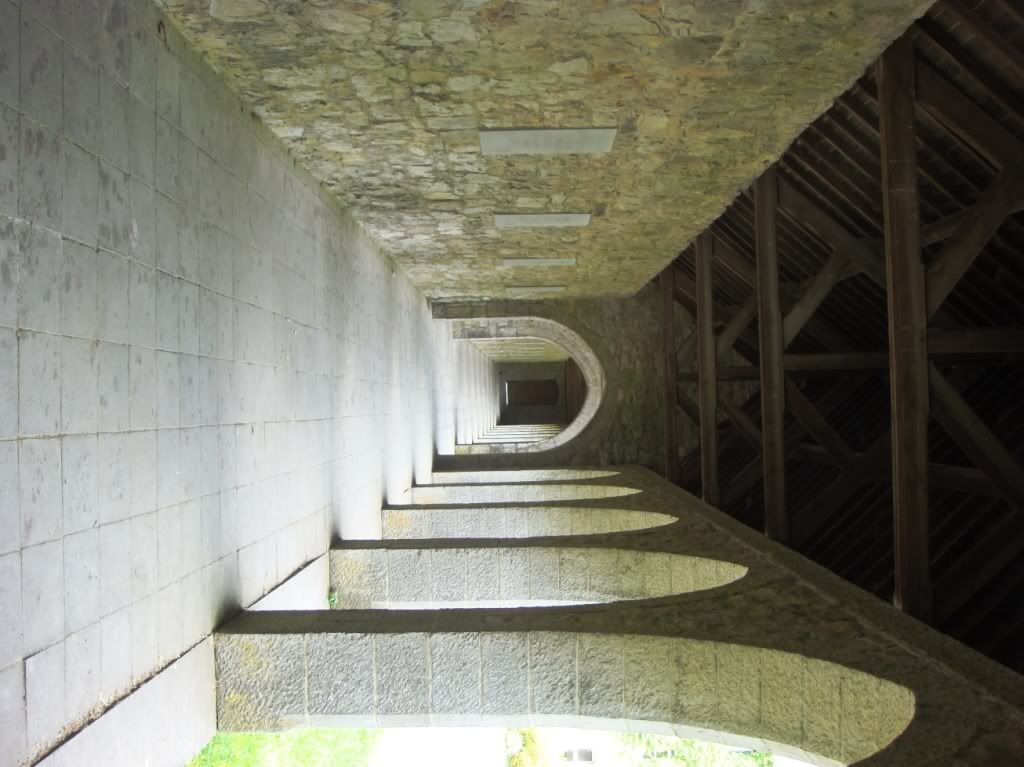 We leave Maredsous and run across this little village with a huge banner. Rail bike sounds like an interesting mode of transportation…

so of course I have to check it out: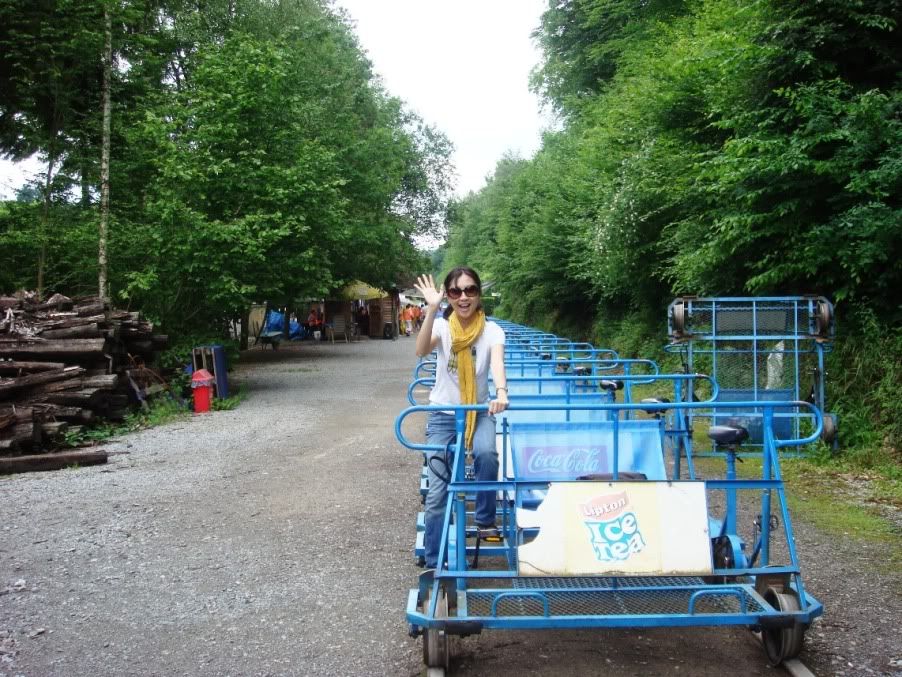 When you are on the rail bike, you can pedal as fast or as slow as you want. As you head downhill, you can coast and just enjoy the wind blowing through your hair while snapping pics of the countryside:
The video below captures how loud it is (you can also imagine the discomfort!) on the rail bike. I'm looking behind me to make sure the German tourists won't overtake us. Eventually they do catch up toward the end of one segment and bump us hard from behind!
This picture is taken near the "train stop" at the end of the ride, and you can see the church spires high above me: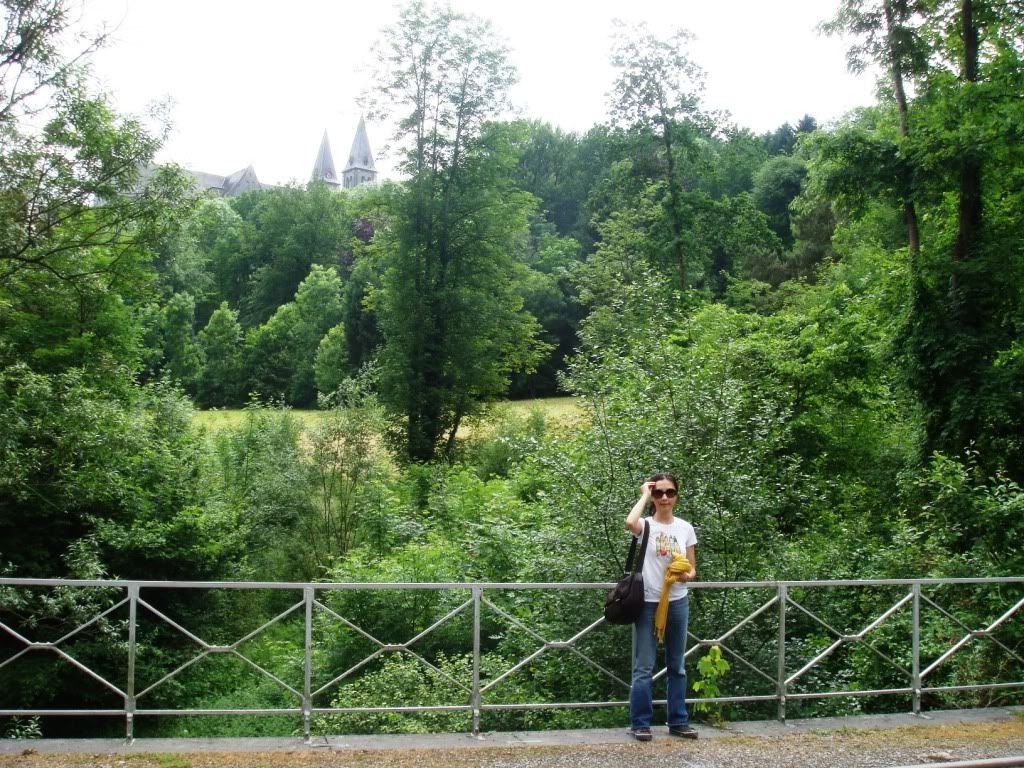 After this little detour, we visit my friend's uncle's farm. More Green Acres moments in tomorrow's blog. We'll also get to storm a castle then. And eventually, we'll arrive in Paris! For now, I'll leave you with a view that still takes my breath away today: