Have I whetted your appetite a bit with the sounds and colors from Sapa? Before I continue that story though, I'm going to first try to finish my European adventures these next few days. Over time you may see that not only am I a poster child for O.C.D., but I also dabble in A.D.D. and am therefore easily distracted. So please ignore my alphabet symptoms and let my photos kindle your imagination instead.
(this windmill is a pet store!)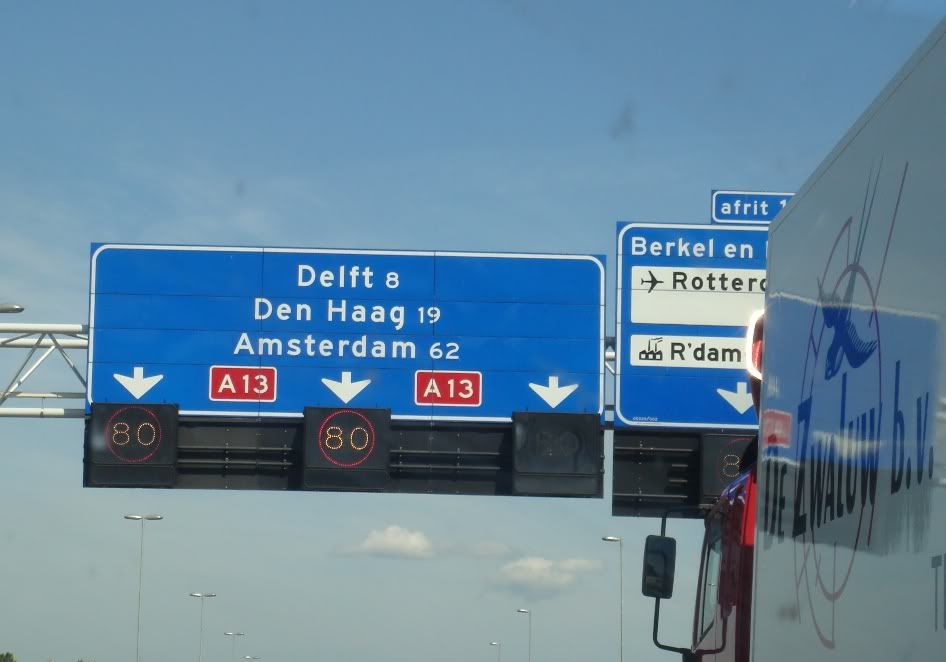 So today I bring you Delft, a small city in the south of Holland. It is Vermeer country. Jan Vermeer (1632-1675) is most well known for the painting Girl with a Pearl Earring.
This marks his resting place: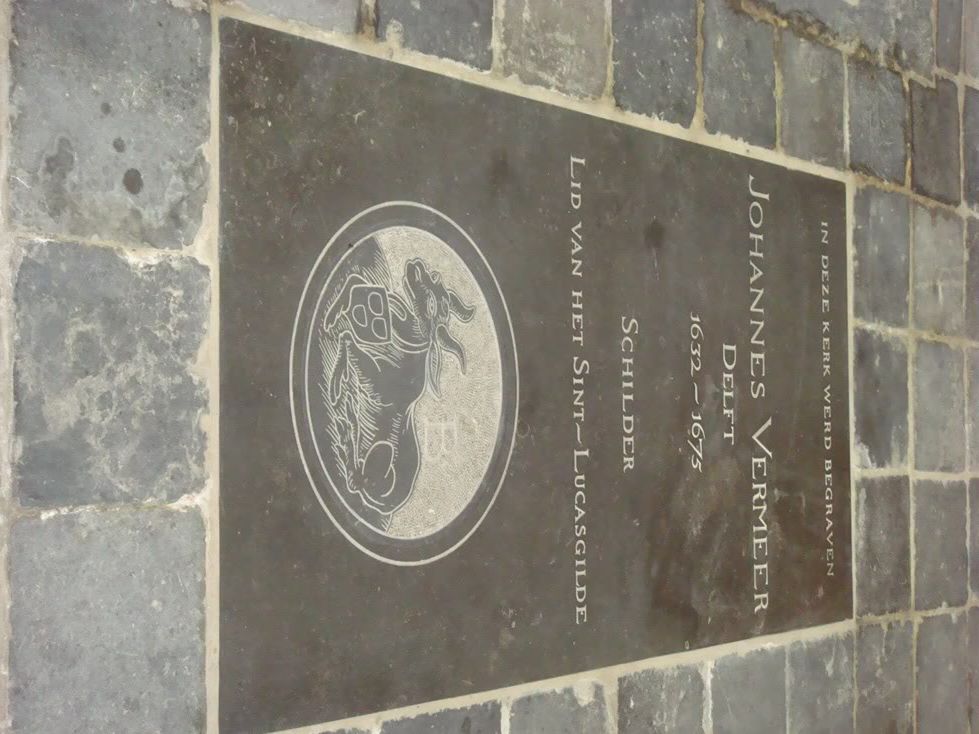 Or maybe this is his final home, I'm not sure! But I am sure Vermeer's spirit is all around lovely Delft: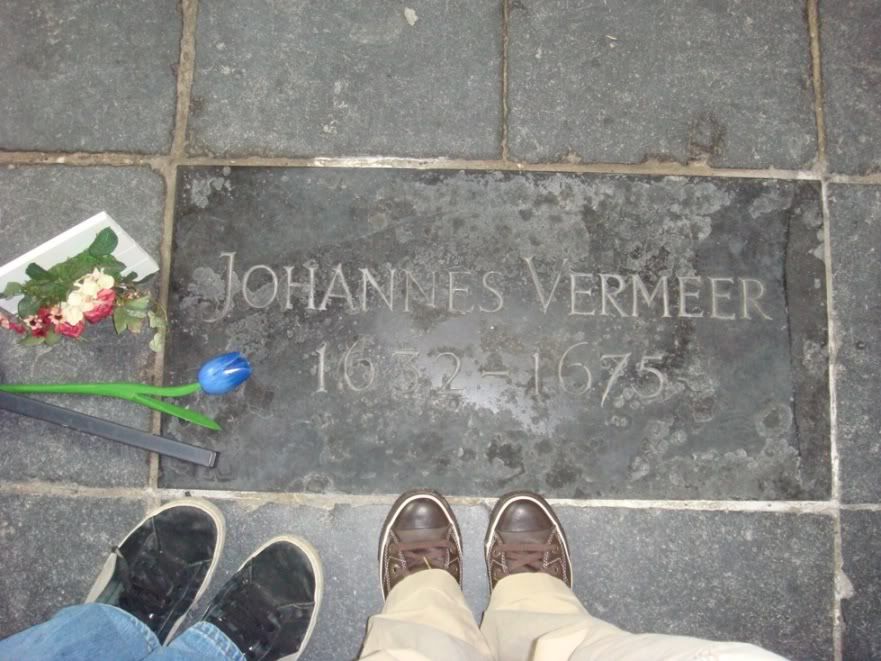 Besides Vermeer, Delft is also celebrated for its Delftware or tin-glazed pottery that takes on a cobalt blue color, or Delft blue, and resembles fine porcelain that history credits to the Chinese out of heavy trading during the Dutch Golden Age. Here's a lovely back door of a delftware factory that shows the blue color: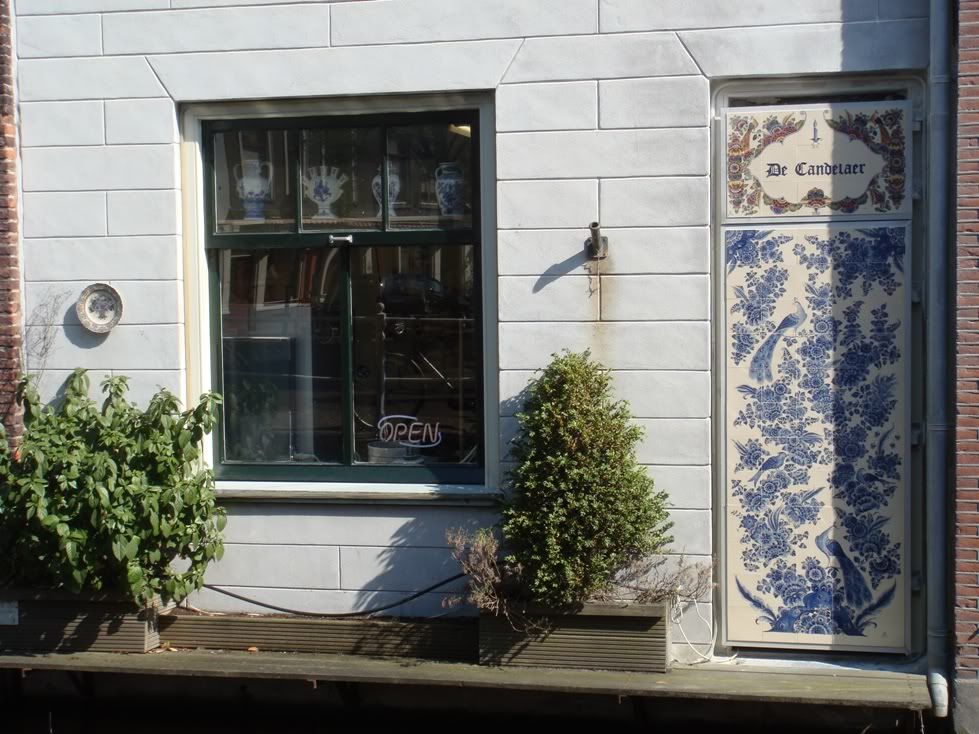 And Delft is proud of its noted association with the House of Orange. No, my dear Hermes fans, not that house of orange, but the house that Willem van Oranje (William of Orange) built. There is a fantastic museum here that chronicles his life: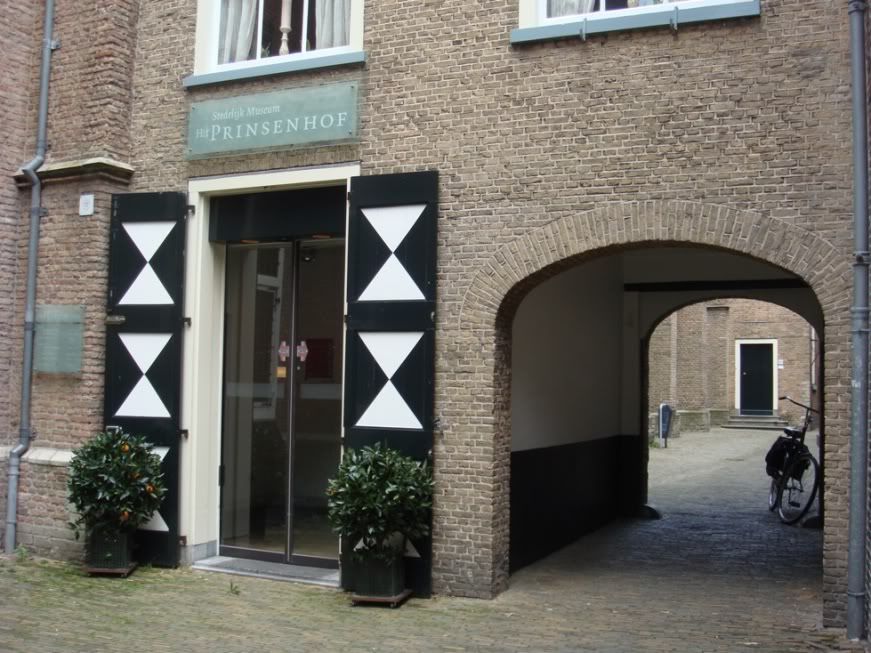 Inside this museum you will see the mark of the bullets that took his life:
Like many other cities in this part of the world, Delft has a large square to mark its city center…
…and smaller squares that mark the heart of a neighborhood, as seen here during one of the championship soccer matches televised by a restaurant:
As soon as I arrive here, I fall in love with the city. With how cute it is. It is made up of little streets connected by short bridges over canals. There's no grandeur of Paris or Beijing or Rome. Just charming Dutch architecture and culture brewing quietly over years and years of consistency and efficiency.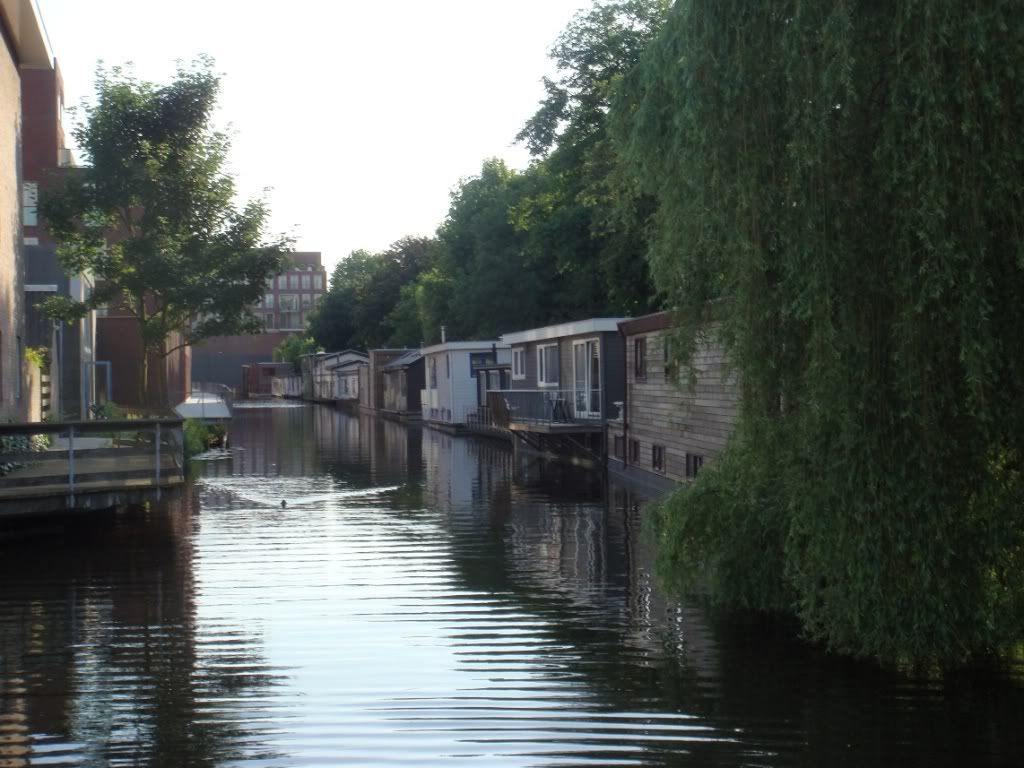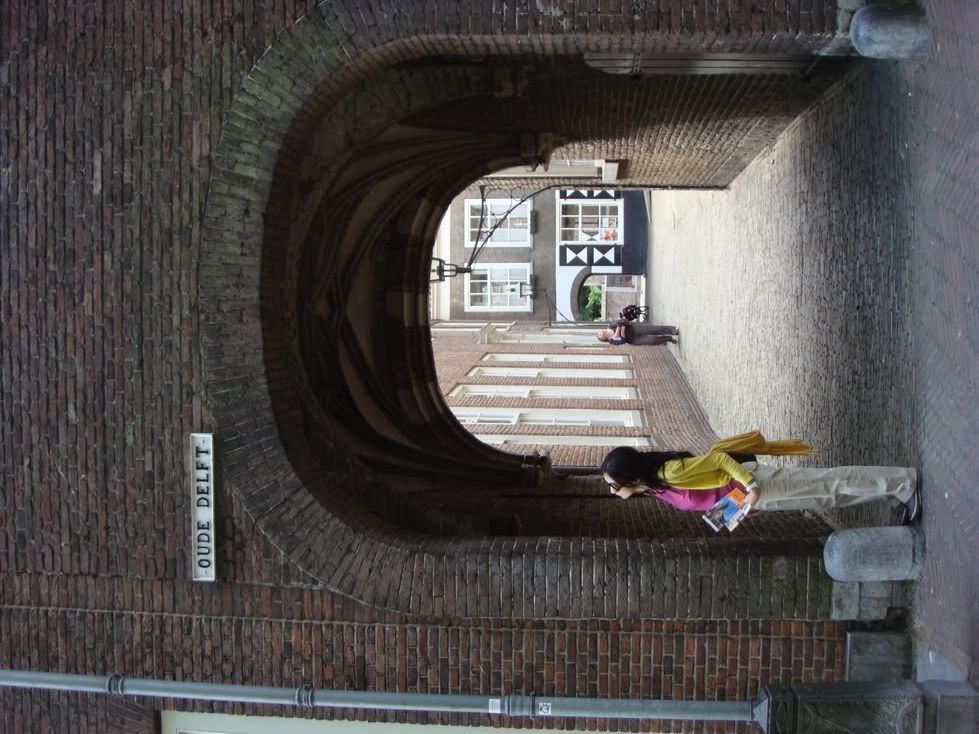 I should note in particular that the Dutch have these hofjes (almhouses) that provide housing for the elderly (mostly widowed or unmarried women who need some assistance). A hofje is really a courtyard with shelter built around it. Some of these hofjes have been turned into swanky residences. In one city I walked in on a festive, large barbecue thrown by the residents in the courtyard, and there was definitely no sign of the elderly or downtrodden there!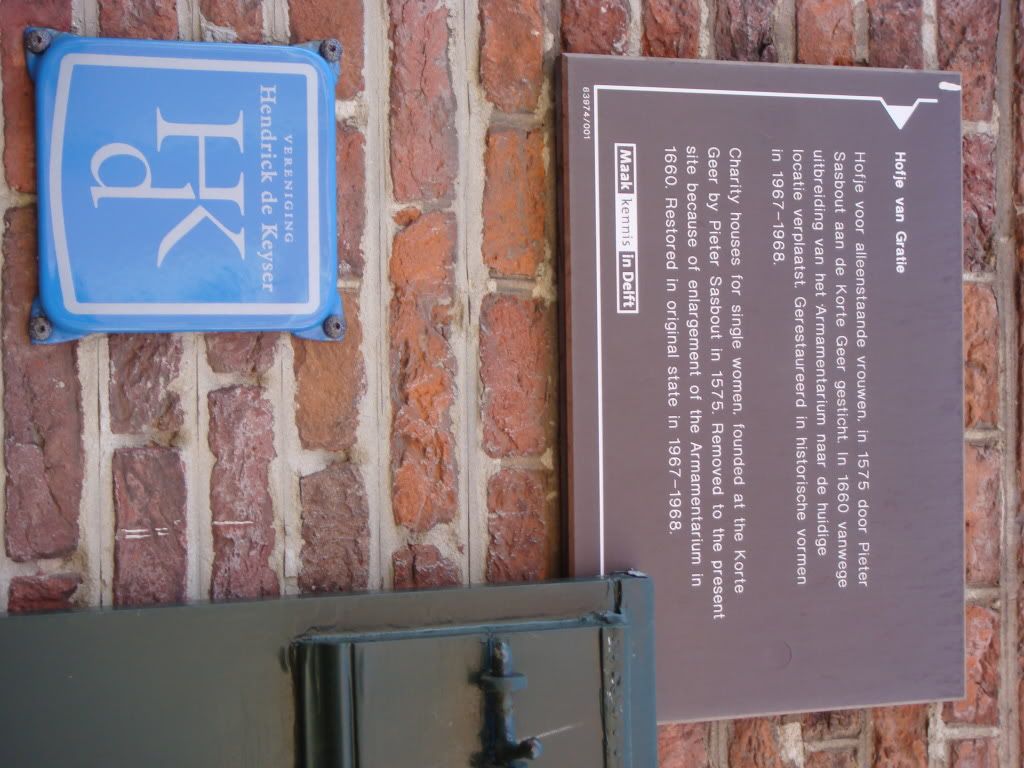 Here's the entrance to one: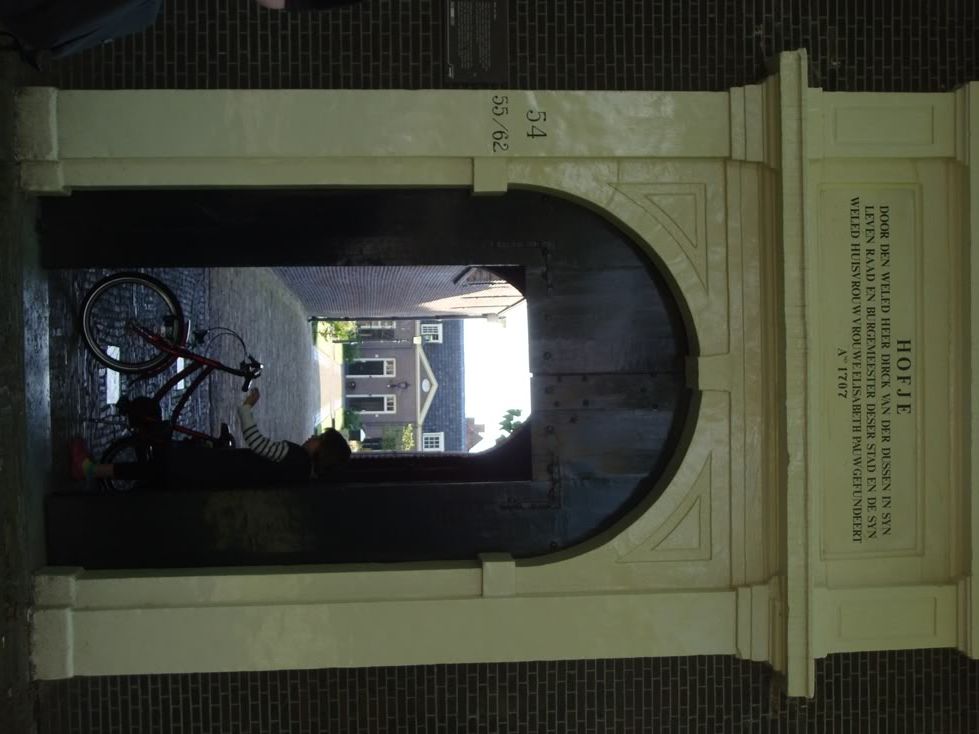 And here's how it looks past the gate:
By the end of my day in Delft, I can hardly stand how cute the city is. Do the residents of Delft wake up everyday, step out of their cute houses, look at the cute streets, and say to themselves, "I live in cute town!" ? I know I would!
This is actually a historical building converted into private residence with an art gallery open to the public: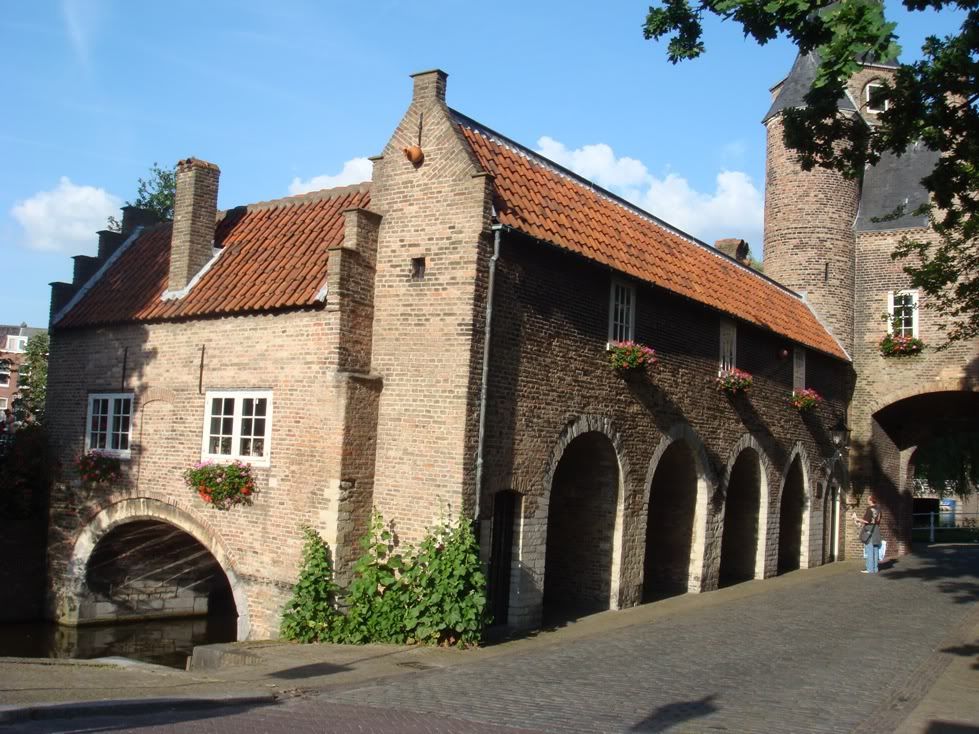 And this is me taking a break behind the church….

…and in front of the church…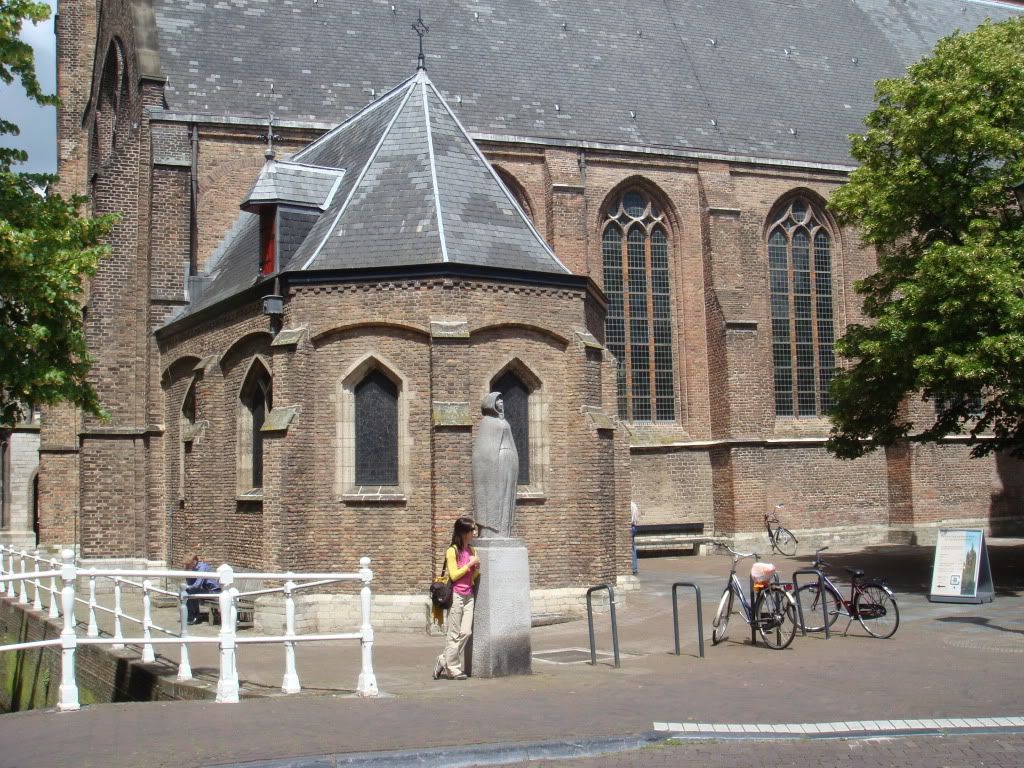 …contemplating how I might be able to buy this…

…because it comes with a sweet courtyard like this…

But I know I'd have some trouble with the language living in Delft. How in the world do you curl your tongue enough to pronounce these words, and how many vowels do I need to squish together again??