I read about Yves Saint Laurent's passing on June 1 of this year when I happened to be in France. It was a sad way to start the day, but I found some wonderful essays and obituaries in the French papers in the hours then days that followed. As many people who knew him indicated, it was time for him to leave this existence after the last few difficult years ravaged by illness, depression. But the more I learned about him, the more I thought about his lifelong partner Pierre Berge. Together they opened the doors to a fashion empire, but after some 50 years together …and apart, it is Berge now alone, still carrying the torch for the genius that was YSL. Mourning is not for the dead but for the survivor. Is there any greater pain than living in the presence of the past?
But if it's of any consolation, the fashion world mourns with Berge. Today we revel in the archives YSL has left behind. Volumes of sketches and clothes are neatly shrinkwrapped into an inspiring traveling exhibit, such as the one I attend at San Francisco's de Young Museum.
 
This show is a collaboration between the museum, the Pierre Berge-Yves Saint Laurent Foundation, and the Montreal Museum of Fine Arts. There are 130 outfits on display spanning some 40 years of his designs, ranging from a 1965 cocoon wedding gown knitted out of wool to the haute couture gowns paying tribute to Picasso, Matisse, Mondrian, Braques, Wesselmann, and van Gogh…
 
YSL was born in Algeria and spent a lot of time in Morocco, so it is natural that he was inspired by the vibrant colors he saw in that part of the world. These dresses epitomize how he interpreted the hues around him: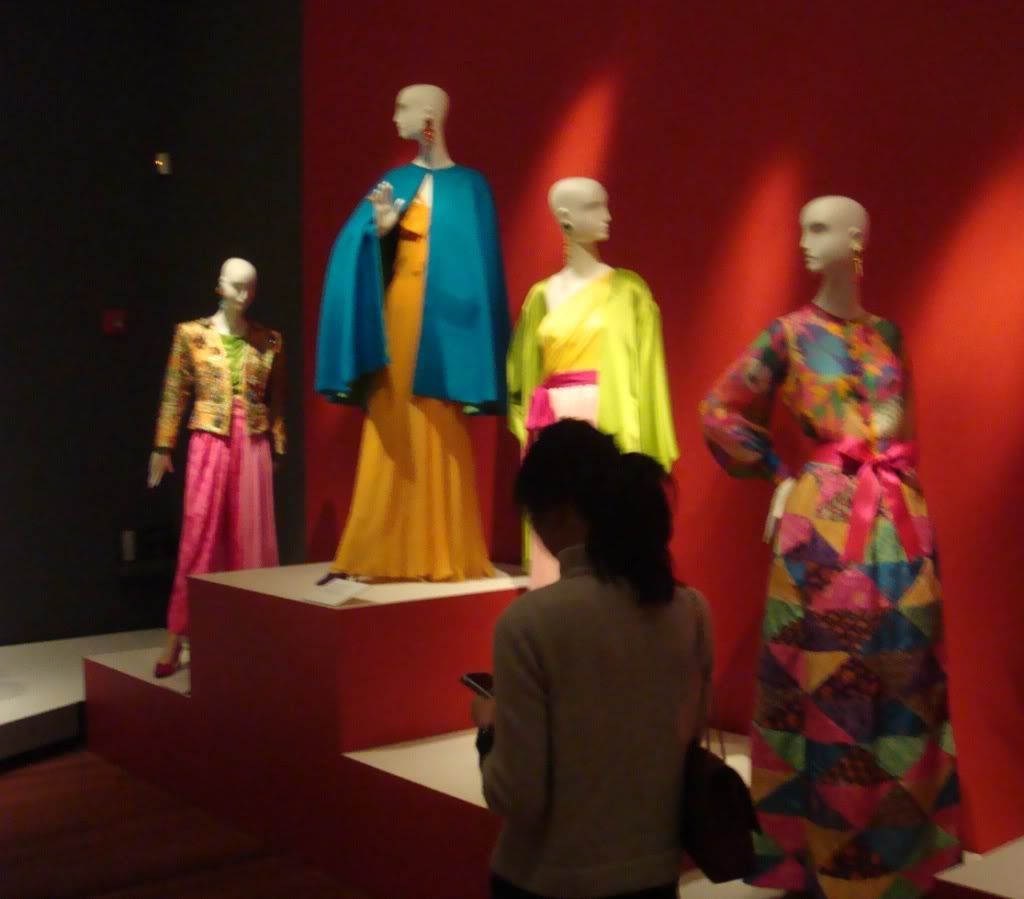 Compare those gowns to the colors found at Morocco's Jardin Marjorelle, bought by YSL and Berge in 1980 (his ashes were scattered in the rose garden of his private villa there):
 
My favorite part of the exhibit is a glass case full of whimsical couture gowns, particularly a few fashioned out rooster and ostrich feathers. Above the glass wall is a television replaying a retrospective and final YSL fashion show in 2002. Once you have viewed all of the outfits on display, it is fitting to watch the video and look for your favorite dress to come alive on a sashaying model. For me, I am thrilled to see the lilac grey ostrich feather gown on the runway and then up close nearby behind the glass. Another personal favorite moment is seeing his iconic, huge yellow silk cape billowing across the TV screen. I don't find this particular number on display but the hair stands up on the back of my neck even the second time I watch it on the video. And then there is Jerry Hall on TV working a white silk satin gown and matching fur wrap–she steals the show for me (even after seeing le smoking, Naomi Campbell strutting, and Claudia Schiffer in the famous safari top as immortalized in print by Veruschka). In this picture below you can see both my favorite ostrich gown and the one worn by Jerry Hall:
 
After some hours there, I pick up a book of paper dolls from the gift store. It reminds me of when I made paper dolls and their clothes with my sisters when we were all still little, well before I knew what haute couture even meant:
 
The gowns are spectacular as displayed in the exhibit, but on the runway, they become living art. The artist dresses his muse and the muse breathes life into his art. How lucky are we to get to go along for the ride on this fashion highway? I am awed and inspired.
Yves, thanks for the memories.